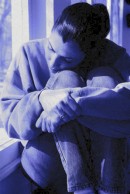 Depression is often viewed as the "common cold" of mental disorders, because it is so prevalent in our lives. The lifetime prevalence of depression suggests that more than 1 in 9 people could be diagnosed with the disorder at one point in their lives. And unlike some other mental disorders, depression affects virtually every aspect of what you do and how you interact with others. Every year, it wreaks havoc in millions of Americans' lives, especially amongst those who believe it is something you should just "get over" on your own.
Here are seven common myths about depression, and the facts that answer them.
1. Depression means I'm really "crazy" or just weak.
While depression is indeed a serious mental disorder, it is no more serious than most other mental disorders. Having a mental disorder doesn't mean you're "crazy," it just means you have a concern that is negatively impacting how you live your life. Left unaddressed, this concern can cause a person significant distress and problems in their relationships and life. Depression can strike anyone, at any time — whether you're "weak" or strong, it knows no bounds. Some of the strongest people I've met are people who've coped with depression in their lives.
2. Depression is a medical disease, just like diabetes.
While some pharmaceutical-influenced marketing propaganda might simplify depression into a medical disease, depression is not — according to our knowledge and science at this time — simply a pure medical disease. It is a complex disorder (called a mental disorder or mental illness ) that reflects its basis in psychological, social, and biological roots. While it has neurobiological components, it is no more of a pure medical disease than ADHD or any other mental disorder. Treatment of depression that focuses solely on its medical or physical components — e.g., through medications alone — often results in failure. Get to know the risk factors for depression.
3. Depression is just an extreme form of sadness or grief.
In most cases, depression is not just ordinary sadness or grief over a loss. If it were ordinary sadness or grief, most people would feel better just over time. In depression, time alone doesn't help, nor does willpower ("Pull yourself up and stop feeling so sorry for yourself!"). Depression is overwhelming feelings of sadness and hopelessness, every day, for no reason whatsoever. Most people with depression have little or no motivation, nor energy and have serious problems sleeping. And it's just not for one day — it's for weeks or months on end, with no end in sight.
4. Depression just affects old people, losers and women.
Depression — like all mental disorders — does not discriminate based upon age, gender, or personality. While generally more women than men are diagnosed with depression, men suffer for it all the more since many people in society believe that men shouldn't show signs of weakness (even a man's own upbringing may reinforce such messages). And while aging brings many changes in our life, depression is not a normal part of the aging process. In fact, teenagers and young adults grapple with depression just as much as seniors do. Some of the world's most successful people have also had to deal with depression, people such as Abraham Lincoln, Theodore Roosevelt, Winston Churchill, George Patton, Sir Isaac Newton, Stephen Hawking, Charles Darwin, J.P. Morgan and Michelangelo. So being a loser is not a prerequisite to being depressed.
5. I'll have to be on medications or in treatment for the rest of my life.
While some doctors and even some mental health professionals believe that medications may be a long-term solution for people with depression, the truth is that most people with depression receive treatment for it for a specific period of time in their lives, and then end that treatment. While the exact amount of time will vary from person to person based upon the severity of the disorder and how well the various treatments may work for each individual, most people who have depression do not need to be on medications for the rest of their lives (or be in treatment for the rest of their lives). In fact, a lot of research suggests that most people can be treated for depression successfully in as little as 24 weeks with a combination of psychotherapy, and if needed, medications.
6. All I need is an antidepressant to treat depression effectively.
Sorry, no, it's not as easy as popping a pill. While certainly you can have an antidepressant medication quickly prescribed to you by your primary care physician, you're unlikely to feel any beneficial effects from that medication for 6 or more weeks in most cases. In two-thirds of patients, that first medication won't even work! Combined psychotherapy treatment with medication is the recommended gold standard for the treatment of depression. Anything else is going to be significantly less effective, meaning most people will suffer with their depressive symptoms longer than they need to.
7. I'm doomed! My parents (or grandparents or great uncle) had depression, and isn't it inherited?
While in the past there's been research to suggest the heritability of depression, more recent studies have called into question how much of depression really is genetic. The upshot? While researchers continue to explore the neurobiology of mental disorders like depression, having a relative with depression only marginally increases your risk for getting depression (10 to 15%). Remember, too, that relatives impart a lot of their own coping strategies upon us in our childhood development — strategies that may not always be the most effective when dealing with things like depression (making one more vulnerable to it).

Want to learn more?
Share your experiences in our support group today.