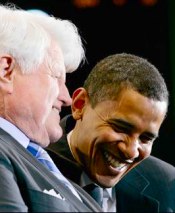 Remember the federal legislation passed in late 2008 that requires insurance companies to bring their mental health coverage in parity with their health coverage? Well, technically that law took effect 29 days ago, but the Obama administration got around today to publishing the rules that put the law into effect.
The U.S. Departments of Health and Human Services, Labor and the Treasury today jointly issued new rules providing parity for consumers enrolled in group health plans who need treatment for mental health or substance use disorders. The rules are a part of the governmental process that implements the Paul Wellstone and Pete Domenici Mental Health Parity and Addiction Equity Act of 2008 (MHPAEA).
First, to be clear, what the new federal law does not cover:
Employers with less than 50 employees (so that's virtually all small businesses right there)
Employers who do not currently offer any mental health or substance abuse benefits
Individual insurance plans (the law only applies to group insurance plans offered by an employer)
The law carved out small businesses for fear of the financial impact the requirement would have on them. This despite the fact that reports show that mental health parity is generally inexpensive to implement.
So what's the effect of the new law?
The new law requires that any group health plan that includes mental health and substance use disorder benefits along with standard medical and surgical coverage must treat them equally in terms of out-of-pocket costs, benefit limits and practices such as prior authorization and utilization review. These practices must be based on the same level of scientific evidence used by the insurer for medical and surgical benefits. For example, a plan may not apply separate deductibles for treatment related to mental health or substance use disorders and medical or surgical benefits — they must be calculated as one limit.

MHPAEA applies to employers with 50 or more workers whose group health plan chooses to offer mental health or substance use disorder benefits. The new rules are effective for plan years beginning on or after July 1, 2010.
"The rules we are issuing today will, for the first time, help assure that those diagnosed with these debilitating and sometimes life-threatening disorders will not suffer needless or arbitrary limits on their care," said Secretary Sebelius in the agencies' joint news release. "I applaud the long-standing and bipartisan effort that made these important new protections possible."
This is not yet the end of the rule-making process:
The interim final rules released today were developed based on the departments' review of more than 400 public comments on how the parity rule should be written. Comments on the interim final rules are still being solicited. Sections where further comments are being specifically sought include so-called "non quantitative" treatment limits such as those that pertain to the scope and duration of covered benefits, how covered drugs are determined (formularies), and the coverage of step-therapies. Comments are also being specifically requested on the regulation's section on "scope of benefits" or continuum of care.

Comments on the interim final regulation are due 90 days after the publication date. Comments may be emailed to the federal rulemaking portal at: http://www.regulations.gov/.
If you have any thoughts on the specific sections open for comments, please take a few minutes to head on over to regulations.gov and submit your thoughts. It's a great relief to see the rules that put the law into effect have been issued, but the law still doesn't cover millions of Americans who get their insurance individually, or the hundreds of thousands of small businesses. We still have a ways to go.
Read the full news release: Obama Administration Issues Rules Requiring Parity in Treatment of Mental, Substance Use Disorders