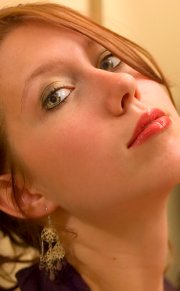 We already know that first impressions can tell a lot about a person. You meet someone, you shake their hand, they smile, you smile back, you introduce yourself. Prior psychological research has suggested that even such a simple, basic interchange creates first impressions that are then difficult to change once made.
But did you know that even a photo of you can create a first impression? New research discussed over at one of Newsweek's blogs demonstrates how easily — and accurately — photos can convey information about our personalities. Simply by just looking at natural photos of other people, you can usually do a pretty good job of accurately gauging 9 out of 10 personality characteristics:
In the study, observers looked at full-body photos of 123 people they had never met. The observers viewed the people either in a controlled pose with a neutral facial expression or in a natural pose and then rated them on 10 personality characteristics. The authors of the study combined self-reported ratings from the people photographed with evaluations from close acquaintances to determine how well the observers were able to guess the traits.

Even when people stood in the controlled pose, the observers accurately judged some major personality traits, including extroversion, self-esteem, and even religiosity.

When people stood in a natural position, the judgments were accurate for nine of the 10 personality traits: extroversion, agreeableness, conscientiousness, emotional stability, openness, likability, self-esteem, loneliness, religiosity, and political orientation.
How does this relate to online? Well, guess what people tend to share with others on social networking websites like Facebook and Flickr? You got it — natural photos of themselves with others.
Such photos, according to a new study specifically examining Facebook, can tell a lot about you (even if you don't think so):
A forthcoming study on Facebook, which will be published in Psychological Science next year, found that online social networking sites are not effective for promoting "idealized" identity. Instead, such sites often portray personality quite accurately, a finding that might help explain their popularity. As with the study on personality based on physical appearance, the Facebook study found that accuracy was strongest for judging extroversion and openness.

While it's difficult to influence the way strangers judge you from a photograph, it's even harder to control your overall online persona when other features like friend lists and Facebook message walls come into play.

"If I want to appear extroverted, I can't just suddenly create 450 friends and have them post on my wall and have photos of me yelling drunkenly at the camera at yet another party," says Samuel Gosling, an associate professor of psychology at the University of Texas and an author of both personality studies. "You can't just fabricate those."
These kinds of studies illustrate how difficult it is to remain "private" while on such networks. Even when you think you are minimally sharing, you are likely sharing more information about yourself than you realize. A photo here, a status update there… and before you know it, your entire personality (and good chunks of your personal life) and there for all to see. Fantastic, if that's what you intended. A little scary if you thought you were sculpturing a specific persona for others to see.
5 Ways You Can Improve First Impressions
There are a number of different ways you can help improve people's first impressions of you. Here are five to try out on your own.
Dress appropriately: Wearing clean, neat, and appropriate clothing can significantly impact the way people perceive you. Dressing professionally for a business meeting or wearing appropriate attire for a social event can help make a positive first impression.
Maintain good posture: Standing up straight, with your shoulders back, and maintaining good eye contact can make you appear more confident and approachable.
Show interest in others: People appreciate when someone shows interest in them. Asking questions and actively listening to what they have to say can make them feel valued and help you make a positive first impression.
Smile: A smile can be contagious, and it can help make you appear more approachable and friendly. So, smile genuinely, and often.
Be yourself: Finally, it's important to be authentic and true to yourself. Trying to be someone you're not can come across as insincere and disingenuous, which can lead to a negative first impression. So, be yourself and let your personality shine through.
Read the full article: Making a Digital First Impression: Why You Can't Fake Your Facebook Profile