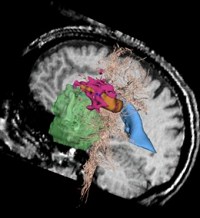 The simple answer is, no. You can now go back to work, content in that little tidbit of brain knowledge.
Functional magnetic resonance imaging (fMRI) is a fancy name for a brain scan that purportedly measures "brain activity." What it actually measures is simply changes in blood oxygenation and flow in your brain, which we believe to be directly related to brain activity — but this is an indirect measure at best. It's not actually measuring "brain activity." fMRI scans are most often used in research to try and better understand our brains and how other things affect our brains (like mental illness or a specific cognitive activity).
So you can imagine the challenges that might be faced when you connect this kind of brain measurement to a legal proceeding. A review article on the use of fMRI for lie detection basically found that the science isn't there.
Researchers cannot even reproduce their own findings when it comes to fMRI, which is the core and basic tenet of research. If results are not reliably and consistently reproduceable, what you have discovered is a random effect, not a reliable scientific finding.
Vaughan over at Mind Hacks has the full story and a lot more commentary about recent court cases that Wired has covered about defendants now trying to get fMRI scans admitted into evidence as a lie detection evidence. Vaughan is far more optimistic about the fMRI lie detection data than I am — I believe the core scientific foundation doesn't even exist for this technique. He believes there may be enough data to piece together using an fMRI as one possible datapoint of evidence in a court case:
Most of the arguments from neuroscientists focus on the scenario where someone 'might be sent to prison' on the basis of fMRI evidence, but Schauer notes that this is only a tiny proportion of court cases and that evidence should be evaluated depending on the context.

This, Schauer says, could be where technology like fMRI lie detection could play a part. If it is 60% reliable and is simply a small part of a larger picture it seems daft to not allow it when similarly 'unreliable' evidence is admitted all the time. As he notes "Although slight evidence ought not to be good enough for scientists, it is a large part of the law."
I don't know. If I have a technique that is basically little better than chance to determine if you're lying, that hardly seems very scientific. Or useful. Might as well roll some dice or flip a coin to determine if a person is lying. Worse, if you can't reproduce that result reliably, then it really is no better than flipping a coin.
People have the mistaken belief that lie detection is widely accepted, reliably administered, and easily interpreted, but nothing could be further from the truth. Lie detection instruments as they exist today vary in their reliability and evidence from lie detection interviews is rarely admitted into court. Despite lie detection's problems, it is still used regularly in job screening and sensitive positions, like the FBI. fMRI is an attempt to improve the science behind lie detection, but it's still at its earliest stages and has a long way to go before it becomes reliable.
Read the full article: fMRI lie detection and the Wonder Woman problem