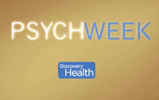 Approximately 1 in 3 Americans meet the criteria for having a mental illness — but we rarely see or hear about it. Discovery Health wants you to know more about it with their special "Psych Week" shows about mental illness.
Discovery Health will open a meaningful dialogue on mental health with Psych Week, a weeklong programming event from Sunday, May 2, through Thursday, May 6. With premieres airing nightly at 9 PM (ET/PT), Psych Week will profile individuals dealing with a spectrum of afflictions and addictions, from anxiety disorders and schizophrenia to multiple personalities and bizarre compulsions.
"Discovery Health is putting an unprecedented emphasis on mental wellness, presenting an unfiltered look at a variety of rare and common mental disorders through the eyes of the people who live with them," said Laura Michalchyshyn, president and general manager of Discovery Health.
"With Psych Week's six premiere programs and expansive online offerings, Discovery Health hopes to defuse preexisting taboos and raise awareness for mental health — while also providing our audience with information and resources to help improve their own lives." Click to read more and watch a preview video…
On Sunday, May 2, at 9 PM (ET/PT), Psych Week kicks off with two back-to-back premiere programs, beginning with ANXIOUS, an hour-long special chronicling the journey of two people battling severe anxiety disorders as they attempt to control their anxiety to ultimately reclaim their lives. Â Then at 10 PM (ET/PT), Discovery Health debuts ENRAGED, an hour-long special following the daily lives of two individuals whose intense, uncontrollable anger has wreaked havoc on their lives — and on their loved ones.
Other Psych Week programs include:
THE WOMAN WITH 15 PERSONALITIES
Monday, May 3, at 9 PM (ET/PT)
THE WOMAN WITH 15 PERSONALITIES presents a unique look at a person living with dissociative identity disorder, a condition in which a person displays several distinct identities, each with its own perception of the environment. Â This hour-long special reveals how this often misunderstood illness affects their daily lives, and provides insight into what it is like to manage multiple personalities who all want a voice.
Tuesday, May 4, at 9 PM (ET/PT)
This hour-long special examines the world of children with schizophrenia through the eyes of the Schofield family, whose 7-year-old daughter January is one of only two children ever to receive this diagnosis. Â In spite of her genius IQ and typically soft-spoken manner, Jani regularly battles vivid hallucinations, delusions and uncontrollable violent rage. Â BORN SCHIZOPHRENIC presents an in-depth look at the family's daily life as they navigate the process of raising a schizophrenic child.
Wednesday, May 5, at 9 PM (ET/PT)
This hour-long special refines the blurry line between normal behavior and compulsions, showcasing four individuals battling obsessive behaviors that are on the verge of taking over their lives. Â Featuring a look at the mental and psychological aspects of obsession, MY STRANGE ADDICTION presents the firsthand accounts of the fixations of a woman who eats chalk, a fanatical runner, a compulsive shopper and an excessive tanner.
BIPOLAR MYSTERIES: FAMILIES IN CRISIS
Thursday, May 6, at 9 PM (ET/PT)
In this hour-long special, Discovery Health's cameras follow a small community of mothers of bipolar kids as they juggle their multitude of medications, mood shifts and far-flung scheduling routines. Â Once isolated and completely helpless, these mothers of bipolar children are for the first time finding solace — in each other.
Here's the preview:
The player will show in this paragraph