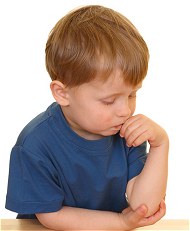 Joan Luby, a Professor of Psychiatry in the Early Emotional Development Program at the Washington University School of Medicine, argues in a new journal article (Luby, 2010) that preschool depression is a real disorder that is important to identify early on. Preschool depression refers to preschool-aged children (between 3 and 6 years old) suffering from significant depressive symptoms that cause impairment in the child's daily functioning and development.
She argues, however, that we can't use the adult criteria for depression, since some of those criteria wouldn't make sense in a preschool child. A preschool child, for instance, can't experience the loss of sexual pleasure, but they can experience a loss of enjoyment in ordinary child play activities.
It makes a sort of sense on the face of it, but seems to start leading us down a slippery-slope of "adjusting" symptom criteria until they bear little resemblance to the original disorder.
"Using age-adjusted symptom manifestations, studies have now shown that preschool children do display typical symptoms of depression rather than "masked" symptoms, very similar to findings already well established in school-age children," notes Luby in the article.
This is the key to being able to diagnose clinical depression in preschoolers — researchers have to adjust the depression diagnostic criteria to drop the duration criteria (minimum of two weeks of symptoms) and re-arrange other criteria to fit into the limited life experiences of a 3-year -old. Which begs the question — if a 3 year old has such limited life experiences, how could you possibly call them "depressed"? Their brains are still in the formative stages of development. Is it appropriate to suggest the 3-year-old's brain is already at a point of development where they are inevitably going to become "depressed"?
Why would preschool depression be important to diagnose? Because it may be a sign of a child who is at increased risk for later depression as a teen or young adult. Citing a single study, Luby suggests that "depressed preschoolers are much more likely to have depression at school age than are preschoolers with other disorders and those who are healthy. These findings suggest that preschool depression is not a transient and clinically insignificant or nonspecific developmental phenomenon but an early manifestation of the same chronic and relapsing disorder known to occur in later childhood and adolescence." It's great such a study exists (conducted on 174 preschoolers using the "age-adjusted" depression criteria), but it's still only a single study.
A Depressed Preschooler Is Hard To Imagine
Luby notes the primary objection to a "depressed preschooler" in this section of her article:
It is difficult to imagine a child as young as preschool age suffering from clinical depression. The preschool period is characterized by the transition into more independent social functioning and greater emotional competence and, along with these emerging skills, joyful play exploration. In this context, the absence of joyfulness, as well as the preoccupation with negative play themes, may be a key marker of depression in preschool children.

While sadness and irritability are also observed in depressed preschoolers, the most sensitive and specific markers, or those that enable the clinician to distinguish depression from other early-onset disorders, are anhedonia, excessive guilt, changes in sleep and appetite, and decreases in activity level. Unlike depressed adults, a depressed preschooler may not appear morbidly or obviously sad or withdrawn, and may have periods of brightening or apparently normal functioning during any given day. These features, as well as an inherent resistance to imagining that a preschooler may be depressed, make it more difficult to identify the disorder in young children.
Personally, I'm not convinced. I think we have only a handful of studies that have examined this issue in any significant manner. There are simply too few studies to justify dropping major clinical depression into the laps of a 3-year-old.
It also appears that the symptoms Luby suggests identify preschool depression are so broad as to be meaningless:
Depressed preschoolers may appear less joyful; be more prone to guilt; fail to enjoy activities and play; and have changes in sleep, appetite, and activity as compared to healthy peers.
Changes in sleep, appetite and activity could be caused by a dozen different things, though. "Less joyful?" What is "less joyful?" Where is the allowance for different personality types — e.g., a preschooler who is simply quieter than their peers? Furthermore, how could you differentiate this from something like Asperger's?
I'm afraid Luby and her colleagues are pursuing a dangerously similar path to Biederman and his childhood bipolar disorder "discovery" — diagnosing our youngest children with serious adult mental disorders simply because they can. What these studies perhaps better demonstrate is how generalized and non-discriminate the symptoms are for these major disorders when they can be readily "discovered" in previously undiagnosed children.
So I can't help but now wonder how long will it be before we start treating 3-year-olds with antidepressants?
Reference:
Luby, J. Preschool Depression: The Importance of Identification of Depression Early in Development. Current Directions in Psychological Science. DOI: 10.1177/0963721410364493