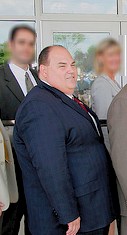 Milwaukee County's Mental Health Complex features a short-term inpatient psychiatric facility that seeks to help those with serious mental health issues — including survivors of trauma and sexual abuse — get better. Patients stay an average of 11.5 days while at the facility and more than 90 percent of them are discharged back to their own care or home.
By far, most people who are admitted to the facility carry a diagnosis within the "psychoses" category of diagnoses — which usually means schizophrenia or a related disorder. Over one-third of their patients are under 19 years old — teens and children. About half the patients they treat are men, the other half women.
More than half the people who seek out treatment at a facility like this will have their tab picked up by taxpayers like you and I, because their bill will be paid by Medicare or Medicaid.
The Complex sports four inpatient wards. But the Complex has a bit of a problem. Instead of segregating men from women on the wards — which is common practice in many other inpatient psychiatric facilities — Milwaukee County has co-ed wards. Normally, this wouldn't be a problem. If this were a college. But it's not a college, it's an acute inpatient treatment facility.
So when violence strikes the wards, what do they do?
Lawmakers and mental health advocates have expressed alarm in recent weeks at the accounts of physical and sexual assaults on the complex's four acute inpatient wards. Earlier this year, federal inspectors threatened to withhold federal funds until the complex corrected deficiencies that led to the rape of the 22-year-old patient.
If you have an increase in the accounts of physical and sexual assaults at your facility of men on women violence, what should you do? Shouldn't you at least consider segregation as a short-term solution that would help keep women safe in the facility?
Apparently not if your John Chianelli, the man who oversees the facility for the county:
Milwaukee County's top mental health administrator intentionally houses female patients with men known to be dangerous "because the presence of women reduces the likelihood of the men being violent," according to a county supervisor's letter obtained by the Journal Sentinel.

John Chianelli, administrator of the county's Behavioral Health Division, told county supervisors during a closed-door session last month that segregating men and women would result in more violence.

"It's a trade-off," he said. "Putting 24 aggressive male patients into a male-only unit would increase the level of violence in the unit."
Really now?
Taking John Chianelli at his word, I went and combed through the research literature to see where I might find data to support his hypothesis that men in an inpatient setting would be less violent if housed with women. After spending about an hour and putting more than a dozen different queries into PsycINFO, a common research database, I couldn't come up with anything (In contrast, usually it takes me about 5 minutes to find a citation I need to support a hypothesis I'm interested in).
What the research does show is that ward crowding leads to higher incidents of violence. It's not clear if ward crowding is just the lack of physical space in such a facility, or also the lack of "psychological space" — that is, privacy.
Now, certainly Mr. Chianelli is entitled to his opinion. But unless he has some scientific data to back up his hypothesis, he should not be experimenting on human subjects in this manner. I'm certain Mr. Chianelli's ego can take the hit in consideration of putting his patients' safety concerns first.
Patients aren't guinea pigs. If your patients are suffering from sexual or violent assault at the hands of your other patients, it's human management 101 to separate out the two groups until you've gotten the situation under control.
It's a sad situation in Milwaukee County and I hope the County Board gets a handle on this important public mental health issue sooner rather than later. Why put patients in harm's way when an easy solution is readily available?
Read the full article: Mental health exec defends sex crime risk
Reference
Ng, Bradley; Kumar, Shailesh; Ranclaud, Marita; Robinson, Elizabeth. (2001). Ward crowding and incidents of violence on an acute psychiatric inpatient unit. Psychiatric Services, 52(4), 521-525.
Photo: Rogers Memorial Hospital