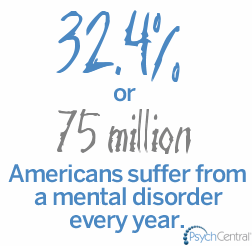 May is Mental Health Month again, so it's also a good time to review the mental health statistics behind mental illness. Some of the statistics going around aren't entirely accurate, because they're based upon outdated web pages on the National Institute of Mental Health (NIMH) website. This misinformation is then propagated by well-meaning people and organizations, including NAMI and others. Sadly, the NIMH website is not as accurate or up-to-date as people like to think it is (I think that because it's a government resource, people just assume it's accurate and correct).
For instance, the NIMH Statistics page puts data into context of 2004 Census data. Well, it's 2010, not 2004, and we have more up-to-date Census data. Also according to the more recent NCS-R data, it's not really 1 in 4 Americans who could be diagnosed with a mental disorder in any given year — it's 1 in 3!
According to the U.S. Census Bureau, in 2009 we had an estimated 307,006,550 people living in the U.S., approximately 75.5 percent of which are 18 or older. This translates to 231,789,945 adults. If we use the estimate of 26.2 percent of adults 18 or older who suffer from a diagnosable mental disorder in a given year, that translates into 60.7 million Americans. But I think the "26.2 percent of adults" number is also inaccurate and not up-to-date.
According to the most recent prevalence data we have (from the NCS-R, Kessler et al 2005, which is based upon 9,282 subjects), the 12 month prevalence rate for any mental disorder or substance disorder is 32.4 percent. Substance disorders — like alcoholism — are recognized in the rest of the world as a mental disorder, and indeed are included in the DSM-IV as such. So why the NIMH would leave those out of the estimate is beyond me.
So looking at these numbers with the latest data, we have nearly 1 in 3 Americans who are suffering from a mental disorder in any given year, or over 75 million people.
Behind the Numbers
Let's break down the rates by category, as the NCS-R does:
| | | | |
| --- | --- | --- | --- |
| | Women | Men | Both |
| Any Anxiety Disorder | 23.4% | 14.3% | 19.1% |
| Any Mood Disorder | 11.6% | 7.7% | 9.7% |
| Any Impulse-Control Disorder | 9.3% | 11.7% | 10.5% |
| Any Substance Disorder | 11.6% | 15.4% | 13.4% |
| Any Disorder | 34.7% | 29.9% | 32.4% |
As we can see, women are at a significantly greater risk for any anxiety disorder (more than double the risk for a specific phobia, like a fear of spiders, for panic disorder, and for post-traumatic stress disorder).  They are also at slightly more risk for a mood disorder — especially for depression, where their rate is nearly double that of men's risk for depression.
Men are at greater risk for impulse-control disorders, but no disorder significantly stands out except conduct disorder (more than 4 times the risk). Men are at more risk for substance disorders across the board as well, with more than twice the risk for alcoholism and three times the risk for drug abuse.
Looking at lifetime prevalence rates is also interesting and quite eye-opening. For any mental disorder (including substance disorders), the lifetime prevalence rate is an astonishing 57.4 percent. That's more than every 1 in 2 Americans. If you don't think mental illness will impact your life, you're sadly mistaken. If it doesn't hit you, it's going to hit someone you love or are close to.
References
Kessler, R.C., Chiu, W.T., Demler, O., Merikangas, K. R., Walters, E.E. (2005). Prevalence, severity, and comorbidity of twelve-month DSM-IV disorders in the National Comorbidity Survey Replication (NCS-R). Archives of General Psychiatry, 62(6), 617-627.
Kessler, R.C., Berglund, P.A., Demler, O., Jin, R., Merikangas, K.R., Walters, E.E. (2005). Lifetime prevalence and age-of-onset distributions of DSM-IV disorders in the National Comorbidity Survey Replication (NCS-R). Archives of General Psychiatry, 62(6), 593-602.